Center Events Move Online
Event guidance and updates in light of public health concerns surrounding the cornoavirus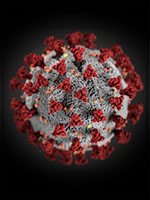 In accordance with Harvard Medical School guidelines issued this morning, the Center for Bioethics will transition to virtual classes and events by March 23.
The Center for Bioethics will begin to offer events and courses via video conferencing and collaboration tools, effective immediately. We are committed to continuing to lead the conversation in bioethics, continue public engagement, and offer opportunities for learning and discourse.
Harvard Medical School Quad-based faculty, staff, and students are eligible for a Zoom account for video conferencing (create your HMS Zoom account). Zoom also offers free accounts to members of the public.
Event attendees should register for events as you normally would, via the Center calendar or email invitation.
Registrants will receive a link to Zoom via email the day before each event.
You may subscribe to the Center's email lists or update your email preferences at the bottom of any email.
For the latest Harvard Medical School updates visit https://hms.harvard.edu/coronavirus.
For updates on Harvard's response to the virus visit https://www.harvard.edu/coronavirus.