Social Justice and Ethics Committees in Health Care
April 14, 2016
Return to current Annual Bioethics Conference
Social Justice and Ethics Committees in Health Care: Core to Our Mission or None of our Business?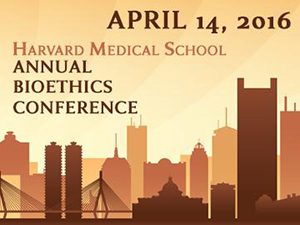 This multidisciplinary program was co-sponsored by the Center for Bioethics at Harvard Medical School and The Petrie-Flom Center for Health Law Policy, Biotechnology, and Bioethics at Harvard Law School to inform and deliberate with health care professionals, bioethicists, attorneys, and the public about how to address social justice issues in health care—such pressing problems as worsening drug shortages, continuing racial inequities, providing health care for refugees, uninsured and undocumented persons, and the like. 
Using selected examples speakers discussed the efforts of health care administrators and others to identify and address such large scale health system problems. Is there a role for ethics committees in handling social justice issues—should the attention of hospital ethicists and ethics committees expand to address broader institutional policies and programs? Faculty experts and participants described successful efforts to address specific problems and engage in thoughtful discussion with participants about strategies and struggles of ethic committees that move beyond individual case consultation to organizational ethics.
Support for this conference was provided by Oswald DeN. Cammann Fund at Harvard University.
PDF of Slides: James Heffernan, "Pharmacy/Medication Issues"
Social justice problems and institutional responses—real world examples and reflections
ANNUAL BIOETHICS CONFERENCES
2019: Controlling Death: The policies, practices, and ethics of choosing when we die
2018: Defining Death: Organ transplantation and the 50-year legacy of the Harvard report on "brain death"
2017: The Ethics of "Making Babies"
Agenda

Keynote

Is there a role for ethics committees addressing social justice issues in health care?
(Download slides as pdf)

WATCH
James Corbett JD, MDiv
Sr VP, Community Health Improvement & Values Integration, Centura Health

Panel Discussion - ABC Panelists

Maureen Banks,
Chief Operating Officer,
Spaulding Rehabilitation Network
(care for refugees)


Thea James,
VP Mission & Associate CMO,
BMS (structurally disadvantaged patients) 

Donna Doherty,
CNO, BidPlymouth
(opioid addiction)

James Heffernan,
Co-chair, Pharmacy & Therapeutics,
BIDMC (rationing drugs)

Concurrent Sessions I & II

 

Addressing race in health care delivery and ethics consultation
Gary Bailey, DHL, MSW, ACSW
Martha Jurchak RN PhD
Steve O'Neill LicSW, JD

Ethical Aspects of Emergency Preparedness
Ali Parmar, JD
Meg Femino, HEM

Fairness in Assisted Reproduction (second session only)
Louise King, JD, MD

Caring for Refugees and Undocumented Patients
Paul Simmons, MD
Lynn Black MD, MPH
Annekathryn Goodman, MD, MS
Joshua Abrams, JD

Dealing Respectfully with LGBTQ Patients (first session only)
Brian French, RN

Making Medical Decisions for Unrepresented and Unknowable Patients
Carol Powers, JD; Paul McLean; Jolion McGreevy, MD, MBE, MPH; Enos Gardiner, MDiv
Download reading: MakingMedicalDecisionsUnrepresentedUnknowablePatients.pdf

Building Knowledge about Institutional Ethics Strategies (second session only)
Charlotte Harrison JD, MPH, PhD
Jim Sabin, MD 

Plenary

Embedding Organizational Ethics in the Way We Do the Work
What is "org ethics" and how do we do it?  Can I take this work into my organization?
Is addressing these or similar issues organizationally embraced as involving ethics? 
Christine Mitchell, RN, MS, MTS, FAAN
Executive Director, HMS Center for Bioethics
The Harvard Annual Bioethics ConferenceSocial Justice and Ethics Committees in Health Care  was co-sponsored by the Hastings Center, the Petrie-Flom Center for Health Law Policy, Biotechnology, and Bioethics at Harvard Law School, and the Harvard Medical School Center for Bioethics with support from the Oswald DeN. Cammann Fund.