2018 Beecher Prize in Medical Ethics Winner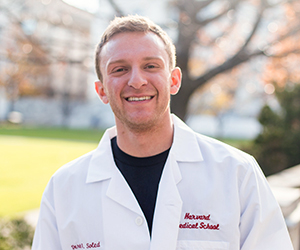 Derek Soled: "The Ethics of Public Health Nudges"
Derek Soled is a second-year MD candidate at Harvard Medical School. In 2016, Derek graduated summa cum laude with distinction from Yale University, double majoring in molecular biology and sociology. He then pursued a MSc in medical anthropology from the University of Oxford on a NCAA postgraduate scholarship. Derek's academic interests focus on the intersection between biological and social forces in shaping disease and medical treatment. He is passionate about improving healthcare delivery and using the social sciences to better tailor public health interventions to populations most at risk. Derek also serves as the president of the HMS/HSDM Student Council and conducts research on public health quality and delivery.

Read his essay, "The Ethics of Public Health Nudges: Libertarian Paternalism and the Manipulation of Choice".
Honorable Mention: "Let's Get Something Straight: Rethinking Female Sexual Dysfunction" by Sarah Kelly, MBE.