The Ethics of "Making Babies"
April 6-7, 2017
Return to current Annual Bioethics Conference
2017's topic was reproductive technologies. 
The use of assisted reproductive technologies raises far-reaching ethical and legal implications, yet there is little regulatory oversight of these medical procedures in the United States. In a field marked by rapid technological innovation, policy makers, physician-scientists, and those seeking infertility treatment must navigate questions related to conception in a landscape of shifting cultural norms and ideological divisions.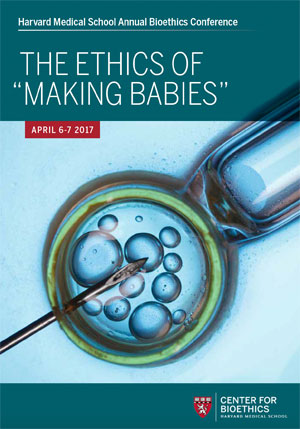 The Harvard Medical School Center for Bioethics' Annual Bioethics Conference convened experts from education, medicine, law and other key stakeholders to frame and discuss the ethical implications of both current and developing reproductive technologies.
Following the conference, a collection of essays written by conference speakers will be compiled and edited by conference organizer Louise King, Center for Bioethics faculty, and Josephine Johnston, director of research and a research scholar at the Hastings Center. The essay collection will examine concepts of reproductive autonomy in the context of specific situations that arise in assisted reproduction.
Download the conference program.
2017 Conference Schedule
2017 Conference Speakers
2017 Poster Abstracts
Presentation topics included:

 

Access to Reproductive Technology

Criminalization of Reproductive Choice

Freezing Eggs and Creating Patients: Reproductive Autonomy

The End of Sex and the Future of Human Reproduction

Sex Selection as a Gateway to Gene Editing

Egg Donation and Payments

Uterine Transplants

Gene Editing
PAST ANNUAL BIOETHICS CONFERENCES
2016: Social Justice and Ethics Committees in Health Care
The Harvard Annual Bioethics ConferenceThe Ethics of "Making Babies,"  was co-sponsored by the Hastings Center, the Petrie-Flom Center for Health Law Policy, Biotechnology, and Bioethics at Harvard Law School, and the Harvard Medical School Center for Bioethics with support from the Oswald DeN. Cammann Fund.