Health Policy and Bioethics Consortia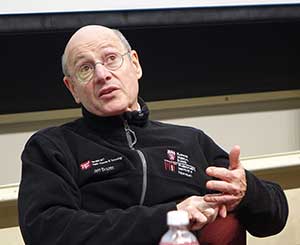 The Health Policy and Bioethics Consortia is a monthly series that convenes two international experts from different fields or vantage points to discuss how biomedical innovation and health care delivery are affected by various ethical norms, laws, and regulations.
They are organized by the Harvard Medical School Center for Bioethics and the Program on Regulation, Therapeutics, and Law (PORTAL) at Brigham and Women's Hospital, in collaboration with the Petrie-Flom Center for Health Law Policy, Biotechnology, and Bioethics at Harvard Law School. Support provided by the Oswald DeN. Cammann Fund at Harvard University.
Be sure to subscribe here for more information about the 2021-2022 Health Policy and Bioethics consortia!

A New Inheritance: Reshaping Our Environment with Gene Drives
December 10, 2021*  |  12:30 – 2:00 p.m. ET          
Breakthroughs in genetic technologies make possible a new method of changing our environments using gene drives, the introduction of certain traits into wild populations. From reducing the impact of invasive species to wiping out disease-carrying mosquitoes, gene drives offer the possibilities to improve human health. But, they also raise concerns—once this Pandora's box is opened, can it ever be closed and what will be the lasting effects on other species? We will examine the science making gene drives possible, their potential to eradicate some diseases, and the ethical implications of research in the wild that reshapes our environment.
Discussants:
Jason Delborne, PhD
Professor of Science, Policy, and Society University Faculty Scholar Genetic Engineering and Society Center Executive Committee Member North Carolina State University
Omar Akbari, PhD
Professor Division of Biological Sciences Cell and Developmental Biology Section
University of California, San Diego
Moderator:
Insoo Hyun, PhD
Director of Research Ethics, Center for Bioethics, Harvard Medical School; Professor of Bioethics, Case Western Reserve University School of Medicine
*Joint event with the Ethics in Research and Biotechnology Consortia
---
Should Alexa Diagnose Alzheimer's?
February 11, 2022  |  12:30 – 2:00 p.m. ET 
Technology is now part of our lives in ways that was not possible only ten to twenty years ago. Smart devices, like watches, phones, and speakers, can gather vast amounts of information about their users, often without the user's knowledge or consent. As technology continues to improve, many of these devices may also be leveraged to serve diagnostic functions. Technologies such as Amazon's Alexa and Google's Assistant can ambiently and continually monitor a variety of information about an individual's location, voice, and movement. As this technology merges with wearables, such as the Apple Watch or FitBit, it may become possible to diagnose a wide range of diseases, including Alzheimer's. But should it?
To help answer that question, Dr. Barbara Evans and Dr. Jason Karlawish will discuss the medical, legal, and ethical implications of using such technology to diagnose diseases, such as Alzheimer's.
Discussants:
Barbara J. Evans, JD, PhD
Stephen C. O'Connell Chair and Professor of Law, University of Florida Levin College of Law;
Professor of Engineering, University of Florida Wertheim College of Engineering
Jason Karlawish, MD
Professor of Medicine, Medical Ethics and Health Policy, and Neurology, University of Pennsylvania;
Co-Director, Penn Memory Center
Moderator:
David Simon, JD
Research Fellow, Digital Home Health, Petrie-Flom Center for Health Law Policy, Biotechnology, and Bioethics at Harvard Law School
---
Access to Reproductive Technologies
March 11, 2022  |  12:30 – 2:00 p.m. ET 
Discussants:
Judith Daar, JD
Ambassador Patricia L. Herbold Dean and Professor of Law, Chase College of Law, Northern Kentucky University
Eli Adashi, MD
Professor of Medical Science, Brown University
---
Supplying International Aid Effectively: Ethics and Law
April 8, 2022  |  12:30 – 2:00 p.m. ET 
Discussant:
Jim Yong Kim, MD, PhD
Vice Chairman and Partner, Global Infrastructure Partners;
Former President (2012-2019), The World Bank Group
Watching This Talk Will Save Your Life: Dealing with Health Misinformation in the COVID Era

November 12, 2021           

The COVID-19 pandemic and vaccine rollout has highlighted the broad reach and prevalence of health misinformation. From outright lies to fuzzy claims, what makes such misinformation convincing and why does it take hold? When misinformation threatens individuals' or the public's health, are its propagators protected by the First Amendment? We will examine the current state of health misinformation and what can be done to push back against its spread.

Discussants:

Wendy Parmet, JD
Matthews Distinguished University Professor of Law and Director, Center for Health Policy and Law, Northeastern University School of Law

Joseph Cappella, PhD
Gerlad R. Miller Professor Emeritus of Communication, Annenberg School for Communication, University of Pennsylvania

Moderator:

Michael Sinha, MD, JD, MPH
Research Fellow, Harvard-MIT Center for Regulatory Science;  Affiliated Researcher, Program On Regulation, Therapeutics, And Law (PORTAL)

---

A Long, Strange Trip: Turning Psychedelics into Therapeutics

October 8, 2021  
Psychedelics have been classified as schedule I substances—illegal to possess—since 1973, but research has increasingly highlighted potentially beneficial clinical applications of psychedelic treatment. Ballot initiatives and local ordinances have decriminalized some psychedelic substances, ushering in public discussion about the uses and abuses of drugs and law enforcement. In this session, we'll hear from experts at the forefront of psychedelic research and advocacy about the ethical and legal challenges of proving that psychedelics can be effective and safe medicines.

Speakers:

Sharmin Ghaznavi, MD, PhD
Associate Director and Director of Cognitive Neuroscience, Center for the Neuroscience of Psychedelics, Massachusetts General Hospital; Instructor in Psychiatry, Harvard Medical School

Rick Doblin, PhD
Founder and Executive Director, Multidisciplinary Association for Psychedelic Studies

Mason Marks, MD, JD
Senior Fellow, Petrie-Flom Center for Health Law, Policy, Biotechnology, and Bioethics at Harvard Law School; Assistant Professor of Law, University of New Hampshire Franklin Pierce School of Law

---

A Fair Shot: Vaccine Patent Protections and Global Access

September 10, 2021

The spectacular clinical success of COVID-19 vaccines has been undermined by barriers to access to the vaccine, particularly in low- and middle-income settings around the world. Dissemination of the vaccine requires global coordination, which can be challenging in the face of patents and other barriers to sharing technological know-how. This session will explore how we have successfully distributed other essential medicines to patients around the world, what some of the novel issues are facing access to the COVID-19 vaccine, and the role of patents and patent waivers, donations, and other strategies in giving everyone a fair shot. 

Speakers:

Lisa Larrimore Ouellette, PhD, JD 
Professor of Law, Stanford Law School; Senior Fellow, Stanford Institute for Economic Policy and Research

Paul Farmer, MD, PhD
Kolokotrones University Professor Chair of the Department of Global Health and Social Medicine Harvard Medical School

Hussain Lalani, MD, MPH
Clinical Research Fellow

---

The NFL, Youth Sport, and Concussions

November 13, 2020 

Potential links between contact sports and chronic traumatic encephalopathy or other long-lasting neurological effects have received renewed public interest with high-profile lawsuits and debate about the dangers of sport. There are challenges with the evidence for drawing firm conclusions, making these debates especially contentious. The concerns about sport and head injury, especially for young players, are not new. Despite recognition of the dangers inherent in contact sports, there is a history of avoiding addressing the problem head-on. American culture surrounding football, lauded for its rough style of play, also influences our understandings of risk, injury, and changes to the sport. 

Discussants: 
Kathleen Bachynski, PhD, MPH
Assistant Professor, Muhlenberg College  

Grant Iverson, PhD
Professor, Department of Physical Medicine and Rehabilitation
Harvard Medical School 
Director, Sports Concussion Program
MassGeneral Hospital for Children 

Moderator:
Cynthia Stein, MD, MPH
Attending Physician, Sports Medicine Division
Department of Orthopedic Surgery
Director Medical Sports Medicine Fellowship Program

---

Investigational Drugs and Stem Cell Treatments:
Legal and Ethical Considerations of Right to Try Laws

December 11, 2020

In May 2018, the Right to Try Act was signed into law, creating a new pathway for patients with life-threatening conditions to access investigational drugs prior to FDA approval. Unlike its expanded access program, the FDA plays a limited role in right to try, which is negotiated between the patient and the drug developer. Prior to the federal law, more than half of states had passed their own versions of right to try. With two years of experiencing the law in action, two expert panelists will consider the effects of right-to-try. Early access to investigational drugs also raises numerous ethical questions, like whether individual patients should be able to bypass research, who bears liability for harms, whether informed consent is possible for an investigational drug, and if early access will delay research that could benefit all patients.  

Discussants:
Alison Bateman-House, MPH, PhD
Department of Population Health at NYU Grossman School of Medicine 

George Daley, MD, PhD
Dean of the Faculty of Medicine
Harvard Medical School 

Moderator:
Insoo Hyun, PhD
Professor, Department for Bioethics
Case Western University School of Medicine
Director of Research Ethics
Senior Lecturer on Global Health and Social Medicine, Part-time
Harvard Medical School

---

Medical Stereotypes:
Confronting Racism and Disparities in U.S. Health Care

February 12, 2021

Minority racial and ethnic groups in the U.S. have long experienced disparities in health care access and have worse health outcomes, undermining broader social, political, and economic equity. Negative stereotypes in U.S. culture can affect how minority patients are perceived and treated.

This session will address the harms caused by the current medical discourse and how both health systems and legal changes can improve outcomes in the future.

Discussants:
Evelynn Hammonds, PhD, MS 
Barbara Gutmann Rosenkrantz Professor of the History of Science,
Professor of African and African American Studies, and Chair
Department of the History of Science Harvard University 
 
Craig Konnoth, JD, MPhil
Associate Professor of Law 
Director, Health Law Certificate 
University of Colorado Law School

Moderator:
Michelle Morse, MD, MPH
Harvard Medical School Assistant Professor of Medicine at Brigham and Women's Hospital 
Robert Wood Johnson Foundation Health Policy Fellow 
Founding Co-Director, Equal Health

---

The ACA in the 2020s: Where Does U.S. National Health Coverage Go from Here?

March 12, 2021

Since its passage over a decade ago, the Affordable Care Act (ACA) has expanded health care coverage for Americans but also faced constant litigation and uncertainty about its future, particularly in the last four years. With a new political administration now in place, the panelists will discuss the current state of ACA litigation and federal and state efforts that could improve the ACA and health care coverage in the U.S.

Discussants:
Jonathan Oberlander, PhD, MPhil, MA 
Department Chair of Social Medicine
Professor of Health Policy & Management
University of North Carolina-Chapel Hill

Erin Fuse Brown, JD, MPH
Director
Cathy C. Henson Professor of Law
Associate Professor of Law
Center for Law, Health & Society
Georgia State College of Law 

Moderator:
Michael Sinha, MD, JD, MPH
Research Fellow
Harvard-MIT Center for 
Regulatory Science
Harvard Medical School

---

Health Care for Incarcerated Populations

April 9, 2021

Caring for populations in prisons raises distinct medical ethics and policy challenges, including pressures on the traditional doctor-patient relationship. Years of litigation have improved conditions in prisons and access to health care services but problems remain. In this panel, experts will share their experiences promoting change through the courts and law, describe how the COVID19 pandemic has been handled, and consider how ethical imperatives to secure equitable health care treatment and conditions can be pursued in the future.

Discussants:
Robert Greifinger, MD  
Consultant
Correctional Health Care

David Fathi, JD 
Director
National Prison Project
American Civil Liberties Union

Moderator:
Shannon Bell, MD
Assistant Professor
Obstetrics and Gynecology
Boston University School of Medicine