Controlling Death? The policies, practices, and ethics of choosing when we die.
April 11-12, 2019
Return to current Annual Bioethics Conference
The 2019 Annual Bioethics Conference conference explored ethical, legal, and clinical aspects of evolving practices of euthanasia and physician-assisted death. How ought we to think about the choices of determining the time and manner of death for our loved ones, our patients, and ourselves? How should the health and legal professions respond to these rapidly evolving practices and choices?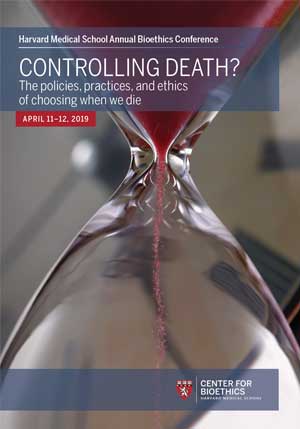 Download the conference program.
2019 Faculty Advisory Committee:
Rebecca Weintraub Brendel, MD, JD, Committee Chair
Nancy Berlinger, PhD
Lachlan Forrow, MD
Linda Ganzini, MD, MPH
Scott Kim, MD, PhD
Timothy E. Quill, MD
Carmel Shachar, JD, MPH
Mildred Z. Solomon, EdD
Sigrid Sterckx, PhD
Matthew K. Wynia, MD
2019 Conference Speakers
2019 Conference Schedule
PAST ANNUAL BIOETHICS CONFERENCES
2018: Defining Death: Organ transplantation and the 50-year legacy of the Harvard report on "brain death"
2017: The Ethics of "Making Babies"
2016: Social Justice and Ethics Committees in Health Care
The Harvard Annual Bioethics Conferenceis hosted and organized by the Center for Bioethics at Harvard Medical School and co-sponsored by the Hastings Center and the Petrie-Flom Center for Health Law Policy, Biotechnology, and Bioethics at Harvard Law School with support from the Oswald DeN. Cammann Fund at Harvard University. Endorsed by the American Society for Bioethics and Humanities.