Remembering Dan W. Brock, PhD (1937–2020)
Harvard Medical School emeritus professor, pioneer and intellectual leader in bioethics has died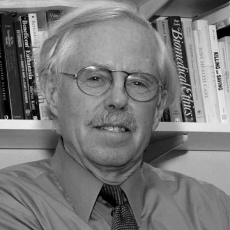 Dan W. Brock, Frances Glessner Lee Professor of Medical Ethics, Emeritus, at Harvard Medical School has died. Professor Brock, a thought leader in the field of bioethics, served as director of Harvard Medical School's Division of Medical Ethics, now the Center for Bioethics.
Prof. Brock was a pioneer and intellectual leader in bioethics who authored works of lasting influence and value on many of the field's most significant issues, ranging from end-of-life decision-making to ethical dimensions of cost-effectiveness analysis, and beyond.
"Dan was a special mentor to me and so many other clinician-bioethicists. He taught us how to bring philosophical rigor to the ethical problems we were seeing at the bedside, helping to elevate the entire field of bioethics to a new level of academic respect and professional engagement," said Center for Bioethics Director Robert Truog.
Prof. Brock authored over 150 articles and coauthored several books including Deciding for Others: The Ethics of Surrogate Decision-Making; Life and Death: Philosophical Essays in Biomedical Ethics; and From Chance to Choice: Genetics and Justice.
He served as a staff philosopher on the President's Commission for the Study of Ethical Problems in Medicine from 1981 to 1982 and was a member of the ethics working group of President Bill Clinton's task force on national health reform in 1993. He was a consultant to numerous international and national bodies, including the Office of Technology Assessment of the U.S. Congress, the Institute of Medicine, and the World Health Organization.
He received a BA in economics from Cornell University and a PhD in philosophy from Columbia University.
In 2018, Prof. Brock was awarded the Henry Knowles Beecher Award by The Hastings Center for his lifetime contribution to ethics and the life sciences. A 2013 event was held at the Center for Bioethics in celebration of Prof. Brock and his contributions to the fields of bioethics and philosophy. Watch the full conference here.
The Harvard Medical School flag will fly at half-staff in his honor on a date to be announced.
Read more about Professor Dan Brock here.