Keeping Culture in Mind
Neuroethics researcher Laura Specker Sullivan examines Buddhist approaches to bioethical dilemmas and mental health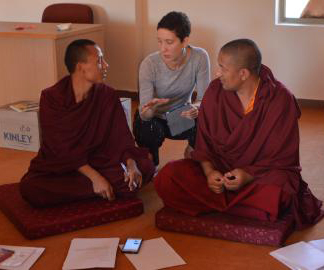 Laura Specker Sullivan, a postdoctoral researcher at Harvard's Center for Bioethics, boarded an airplane for the small town of Mundgod, India, for the second time in two years. Her destination: the Gaden Jangtse monastery, whose Buddhist monks create science learning communities for contemplatives. The goal of the overall program — Science for Monks — is to create science communities for Tibetan Buddhist Monasteries in India. 
For the past decade, Sullivan has probed the ways in which religion and culture influence conceptions of ethics. During both trips, one in November 2016 and another in November 2017, she examined the relationship between Western approched to the mind, bioethics, and Buddhist values. 
During her trips, Sullivan, a neuroethicist, worked with the Tibetan monastic community engaging in science learning and dialogue. Sullivan taught eight neuroethics classes during her 2017 visit to the monastery, but she was also there as a student. 
As part of her research with the HMS Center for Bioethics, Sullivan is inquiring into how Tibetan monks address bioethical dilemmas through a neuroscience lens. She conducted eleven in-depth interviews with monks, presenting them with ethical questions commonly faced in the Western world, including their views on end-of-life decisions, the use of performance enhancing drugs, and mental health treatments. Sullivan plans to publish her research later this year. 
Making Connections 
Sullivan's travels inform her teaching in the Harvard master's of bioethics program, where she coteaches aneuroethics course and leads sessions in the "Foundations of Bioethics" course. She exposes students to non-Western ethical thinking, cross-cultural ethics, and moral relativism. 
"Tibetan Buddhists have been doing first-person exploration of the mind for centuries. The whole point of meditation is to observe your mind. You're seeing how it works," Sullivan says. "Neuroscience, is the opposite. It's meant to be objective. It's a third-person study of the brain through data and observation." 
Sullivan believes that connecting the first-person study of the brain, through meditation with scientific study makes sense from an ethical scientific perspective. "I think Western scientists have a lot to learn from those who have spent so much time thinking about the mind. I think the results of my research will give us insight into new ethical issues revolving around the mind and how to study it." 
In addition to linking first-person experience with academic study, Sullivan notes that there are special concerns when exploring the mind. "The focus of people's sense of self and their feelings of agency take priority. Buddhist culture has spent a lot of time modulating with how people's minds work and they have developed a sophisticated sense of what safeguards need to be in place." One example, she says, is that no one should instruct meditation until they reach a certain level of practice. 
Though Sullivan believes that many elements of human experience are universal, she says culture is where the concepts and the practices that structure our experience are built. "In the U.S., we tend to assume the way we talk about ethical issues or make decisions is the most comprehensive way or is a universal way," Sullivan says. 
A Broader Perspective 
This kind of cross-cultural experience isn't new to Sullivan. From a young age, she was exposed to the principles of Buddhism. Her mother and godmother first piqued her interest in meditation practice when Sullivan was in fifth grade. "My godmother taught weekly meditation classes at her home, and my mother brought me to some of the classes. My godmother taught me how to meditate and some basic ethics of meditation." His Holiness The Dalai Lama's North American Seat is in Ithaca, New York, Sullivan's hometown. 
At Williams College she considered studying neuroscience as a track to medical school. "I passed out during a rat surgery, so decided not to do the wet lab research," Sullivan says, choosing philosophy as a major instead. She later earned a Ph.D. in philosophy and a graduate certificate in Japanese Studies from the University of Hawaii at Manoa. 
The marble and ivy on the HMS campus are certainly different from the stone walls of the monastery in India, but Sullivan is working to bridge the two in her research. After her work at Harvard, Sullivan plans to continue studying cross-cultural ethics and the connections between Tibetan Buddhism and neuroscience. Sullivan and one of her collaborators, Karen Rommelfanger at Emory University, hope to travel to India to continue their work. 
Sullivan says she views her work in India as a kind of ethics exchange program. "Bioethics is a conversational science. Answers aren't found in lab results, they are found through discussion and experience in the field," she says. "I believe that anyone in ethics would benefit from participating in meaningful discussion and engaging with other cultures."