A Community of Critical Friends
Fellowship in Bioethics Program strives for fellowship in all senses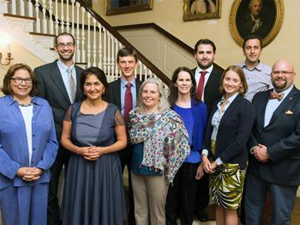 They have, at first glance, very little in common. Even the medical theme threading through most of their careers is misleading, for it's difficult to find more than a few people in the group from the same field. There are neonatologists and public health professionals, human rights scholars and even a veterinarian.
And yet, there's camaraderie apparent between all of the newest Fellows in Harvard's Program in Bioethics. They are indeed all connected, not by any superficial qualities, but by a deep interest in bioethics. They are dedicated to medicine's messiest questions, eager to live in the gray space where science and philosophy meet.
Fellows meet every Friday for a two to three hour seminar. It's a serious commitment, as most of them are employed full time and need to arrange time off in order to participate. Often the seminars involve hypothetical scenarios with both medical and moral elements. These "tensions," as ethicists would call them, play against each other, making the best resolution of any one case difficult to pinpoint.
Fellow Talia Engelhart was a pre-med student when she came to the realization that she was interested in science, but was drawn even more to bioethics. "I wanted to think about how people make important decisions," she says. Now, with a masters of public health under her belt, Talia plans to use her knowledge of medical decision-making in her daily work as the Program Director for the Young Parents Program at Boston Children's Hospital, a primary care clinic for teen parents and their young children.
Many of the Fellows will use ethical skills gained through the program to tackle difficult issues surrounding end-of-life care, but not all of them will be working with the elderly. Fellow Peter Murray confronts end-of-life situations where they are least expected. An attending neonatologist at Tufts Floating Hospital for Children, Murray works specifically in infant palliative and end-of-life care. Questions of whether or not patients will benefit from resuscitation, and of how to balance pain management with survival, take on a particularly complex dimension when applied to infants. As difficult as it is, Murray says, "There are times when what is in the child's best interest is not clear."
Then there's Lisa Moses. Moses, a Fellow in the 2015-2016 cohort, has a thirty-year career in veterinary medicine behind her. She founded and directs the Pain Medicine and Palliative Care Service at the MSPCA-Angell Animal Medical Center in Boston. "There is a big void in veterinary medicine on how to approach ethics," Moses says. "There is a central conflict of pet owner versus vet when it comes to big medical decisions – it can be difficult to say who should have the authority."
Center Executive Director Christine Mitchell expresses high hopes for this class's potential to work through such ethical conundrums. "It's so exciting have Fellows from around the corner and around the world - from medicine and nursing but also from journalism, bench research, and medical industry. The students are very diverse, and that makes for more discussion and more lively points of view." 
This diversity and liveliness are the lifeblood of the Fellowship Program in Bioethics, which prides itself on its interdisciplinarity. In addition to instruction in major theories of ethics and justice, the program is devoted to "fellowship in the true meaning of the word," says Director Mildred Solomon, a professor of anaesthesia at HMS and core faculty member at the Center for Bioethics. The goal, after a year of Friday mornings spent together discussing nuanced ethical theory, she says, is a Fellows group that is a "community of critical friends" ready to use their knowledge to make a positive difference in fields ranging from public health to academia to clinical research.