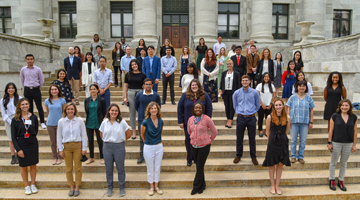 Capstone Experience
This mentored, hands-on experience complements the MBE program and culminates in the Capstone Symposium.
Foundations of Bioethics I and II

BETH 701 and BETH 702

The Master of Bioethics program requires Foundations I in the first term of study and Foundations II in the second term of study. The course is a multilayered approach to bioethics, from the philosophical underpinnings to the application of theory to central challenges in bioethics and, beyond, to law and policy. Foundations I and II combine readings from original texts, theoretical critiques, legal and policy approaches to subject matter areas, and examination of other critical forces such as social science and religion, that have shaped contemporary bioethics.

Capstone Seminar I and II

BETH 707 and BETH 708 | Classroom support of your mentored experience

The capstone experience is a required component of the Master's program that provides a mentored field placement or project that allows each student to actively participate in applied bioethics work. The Capstone Seminar is intended to help students reflect upon their own and others' Capstone experiences, thereby developing an appreciation for the range and complexities of real-world work in clinical ethics, research ethics, or law and/or public policy related to bioethics. Together, the Capstone and associated Seminar focus on acquiring knowledge through experience and linking theoretical knowledge with the technê (craft, skill or art) of bioethics practice. A central feature of the seminar involves consideration of the role responsibilities, professional skills, and virtues of those doing practical bioethics work. Special Note: Students are matched with individual capstone mentors for project supervision to fulfill the capstone requirement.
Introduction to Clinical Ethics

BETH 703

This course covers major principles and themes in Clinical Ethics (e.g. futility, physician-assisted suicide, advance directives). Each session includes interactive case-based lecture and discussion, followed by a practicum. The practicum is modeled around the experience of a clinical ethics committee with small groups of students working through a case and crafting an interpretation and set of recommendations.

Introduction to Research Ethics

BETH 705

This course provides students with a comprehensive foundation in research ethics. Topics covered in this course include many of the complex, real-life ethical issues that have attracted public attention in recent years, such as undue influence of research participants, concerns about therapeutic misconception and subject recruitment, concerns about social justice in the context of biomedical research, and uncertainty about new forms of biomedical research. Class sessions are built around a critical discussion of fundamental concepts and case studies that elucidate the complex interplay of philosophical, scientific, and practical considerations that characterize the field of research ethics.

Health Law, Policy, and Bioethics

BETH 706

This course is an introduction to legal topics in health policy and bioethics. It requires no experience in law and begins with a brief primer on American law and how it works. Topics covered include legal aspects of the doctor-patient relationship, medical malpractice, privacy issues, health care finance, end-of-life issues, organ donation, disability, mental health, public health, medical product regulation, food regulation, and intellectual property.