Invigorate your career. Enrich your community. Exceed your expectations.
As science advances and expands, there is an increasing need for leaders who are able to think critically about pressing ethical issues.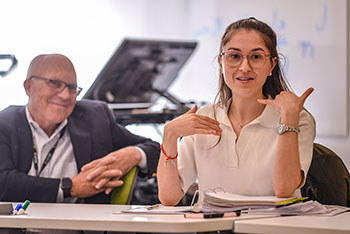 Harvard Medical School's Master of Bioethics Degree Program combines a rigorous foundational learning experience with a practical capstone experience tailored to your area of interest.
The Center for Bioethics draws teaching faculty from more than a dozen Harvard Medical School teaching hospitals and affiliated institutions. Center collaborations within Harvard University—including the Harvard Safra Center for Ethics, Petrie-Flom Center at Harvard Law School, Center for Health and the Global Environment, Harvard Kennedy School, Harvard School of Public Health to name a few—add to the unparalleled resources available to each student.
A personalized and multidisciplinary approach are hallmarks of the Master of Bioethics Degree Program, which is offered as either a one-year full-time or two-year part-time course of study.
Each student will develop a plan of study with faculty members that includes:
Core Study: Foundational courses covering theoretical and applied ethics, strategies of ethical justification, and historical through contemporary challenges in bioethics.

Electives: Options to augment the Core Study program with course offerings at the Center for Bioethics, Harvard Medical School, and across Harvard University.

Capstone Experience: A hands-on project utilizing formal course learning in a practical project.
View the program brochure for more information about the master's program and what makes the Harvard Medical School community unique.
Harvard Medical School's mission is to nurture a diverse, inclusive community dedicated to alleviating suffering and improving health and well-being for all through excellence in teach and learning, discovery and scholarship, and service and leadership.
Beginning for the entering class of Fall 2019, full-time, benefits eligible faculty and staff at Harvard Medical School and the affiliated institutions/hospitals are eligible for a scholarship equivalent to ten percent of the full-time tuition rate for any of the HMS Master's Degree Programs, learn more.