The Tools to Fulfill Your Potential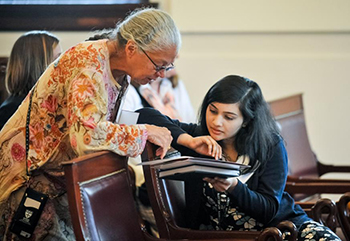 As science advances and expands, there is an increasing need for leaders who are able to think critically about pressing ethical issues. Master of bioethics students join the program from a range of educational and professional backgrounds, united by a commitment to developing expertise in bioethics through formal education. Many applicants hold a terminal or professional degree or are seeking to enhance their primary training in a related field.
We seek applicants:
Who care about responsibilities for patients, clients, and the public
Who exhibit intellectual curiosity and humility
Who are from a variety of professional fields and bioscience industries
Who are eager to address complex moral challenges
Who think ethically and critically about emerging issues in the life sciences
Who care about social justice
Review the requirements and begin your application today.
International applicants: See Frequently Asked Questions for additional details.
"The Master of Bioethics program is a challenging and transformative experience that significantly alters the lens through which one views the world."
—Busisiwe Mombaur, MD, MPH, MBE '16